Autumn Favorites: Delicious Recipes from Your Ever Fresh Fall Boxes
Autumn is in full swing, and we could not be more excited here at Ever Fresh! With the change of the season comes the chance to try out many new and innovative recipes using Ever Fresh classic produce boxes, as well as many of our local fall additions and custom box options. From soups, to salads and everything in between, there is no limit to the delicious recipes you can craft using Ever Fresh produce, bread, dairy and more. Here, our team showcases some of our favorite fall recipes you can replicate using our boxes. We're sure you'll find inspiration, and we can't wait to see you get cooking across Baltimore. 
Ever Fresh Fall Specials: Local Butters, Bread & More
When it comes to fall flavors, there is nothing more satisfying than the taste of warm apple or pumpkin on a chilly autumn evening or weekend. We are happy to be carrying local apple butter and pumpkin butter, made right here in a small town called Accident, Maryland. Many of us are going through a difficult time right now, and one thing that we can do to come together, safely, is cook! Whether you are spending time cooking with family and friends, or delivering a tasty treat to someone in need, food should always come from the heart. Below are some recipes that you can replicate using our products!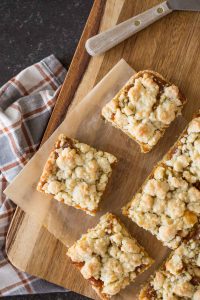 Apple Butter Snickerdoodles
These apple butter snickerdoodles from Crazy for Crust encompass every quintessential smell and taste of fall. Cinnamon, apples and warm, gooey cookies come together to make the perfect sweet treat. Soft, chewy and full of flavor, these cookies only take around 30 minutes to make. Click here for the full recipe. 
Pumpkin Butter Crumb Bars
Nothing screams fall like pumpkin, and at Ever Fresh, we have you covered with all of your pumpkin favorites! Our locally sourced pumpkin butter can be used in this delectable recipe from Lovely Little Kitchen, taking only around an hour to make, and creating a flaky, buttery and pumpkin inspired treat to enjoy throughout the fall season. Click here for the full recipe.
Healthy & Filling Avocado Toast
If you're not into sweets, not to worry! Ever Fresh offers homemade bread options from Baltimore-based bread company, A Friendly Bread. While you may have heard of traditional avocado toast, there are so many ways to spice up your breakfast recipes, you can try a new one out each week! Create this meal with our Multi-Seed or Simple Country bread, and eggs from our dairy section! Click here to view the full recipe from Jessica Gavin. 
Produce Box Classics & Custom Fall Boxes
While we are swooning over our fall favorites, we know that when it comes to cooking, you're looking for the perfect mix of adventure and practicality. After crafting your fall-themed baked goods, consider meal prepping or preparing a fall dinner using one of our original fruit, veggie or medley boxes, or create your own custom fall box! Our custom options give you the opportunity to create your perfect fall meals, getting all of the main ingredients delivered right to your door. Check out some mouthwatering recipes you can recreate using our boxes below.  

Savor Squash All Season Long
Just like apple and pumpkin, squash is a staple for the fall season. From soups to salads, and even on their own, squash is both versatile and delicious! In this Food & Wine article, there are over 30 squash-based recipes that you can recreate with love, including dishes such as Sugar-and-Spice Roasted Squash and a Grilled Squash Casserole. You can find the full list of recipes by clicking here. 
Fall Fruit Salad Filled with Flavor 
While we may think of fruit salad for summer, there are many ways you can create a fresh fall fruit salad for the family. This fruit salad from Kitchen Treaty is filled with your favorite goods, all of which you can find in our Fruit Box or add to your custom box! This salad recipe comes complete with pears, apples and grapes, finished off with a cinnamon Greek yogurt dressing, You can view the full recipe by clicking here. 
Hearty Soups Are Waiting
While it is still somewhat mild out here in Maryland, the weather is slowly getting colder. Batching soup or creating a bowl with love to give to a friend or family member is a great thing, and Ever Fresh is here to help! This hearty veggie soup recipe from Flavor the Moments is filled with celery, carrots, tomatoes and kale, and will surely be a soup to savor. If you're looking for something heartier, Sugar Spun Run has a thick, warm potato soup recipe waiting for you, and yes, of course this includes bacon and cheese for a treat. 
Order Custom Produce Boxes to Your Door With Ever Fresh
Based in Baltimore, and serving Baltimore County and Baltimore City, Ever Fresh brings local and non-local produce directly to your doorstep each week. With pre-made produce boxes available on subscription, as well as custom box orderings for all of your favorite fruits, veggies, bread and dairy, the days of paying supermarket prices and waiting in line are long gone. With delicious food at a fraction of the cost of the supermarket, Ever Fresh is bringing healthy, delicious food to Charm City. To place your order for this week and learn more about Ever Fresh, click here.